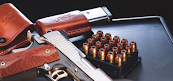 Intro to Firearm Safety & CCW Course
Start: Thursday February 21, 2019 at 6:30pm CST
End: Thursday February 21, 2019 at 9:30pm CST
Introduction of Firearm Safety and Concealed Carry Course

When: Thursday, February 21, 2019
Time: 6:30 p.m. to 9:30 p.m.
Cost: $59.00 in advance or $75 at the door

Vantage Tactical Solutions is conducting a 3 hour course, sanctioned by the State of Wisconsin Department of Justice, that focuses on the following topics:

• Basic Firearm Handling
• Functionality of Semi-Automatic and Revolver
• Cleaning of your Firearm
• Loading and Unloading of your firearm
• Safe Storage in the Home
• Wisconsin Concealed Carry Laws
• 4 Universal Firearm Safety Rules
• Avoiding the Need to Use Your Weapon
• Legal Implications of Carrying a Concealed Weapon
• Safe Carry Considerations
• Self Defense and the Defense of Others
• Deadly Force Decision Making

*Certificate upon completion of course.

Firearms are recommended to be brought to the class for scenario based training however are not required. No live ammunition allowed in class.

Vantage Tactical Solutions Gift Cards can be purchased here: https://squareup.com/gift/9GN1HY728XC6G/order

Vantage Tactical Solutions Apparel available for purchase here: https://squareup.com/market/vantagetactical

VTS Instructors are certified by the Wisconsin Department of Justice certified Instructor Trainers, Wisconsin Department of Safety and Professional Services, NRA and USCCA Affiliate Instructors.

CANCELLATION NOTICE: No refunds will be given once registration for a course is complete. Course fees will be applied to a future training date. Please call to reschedule.